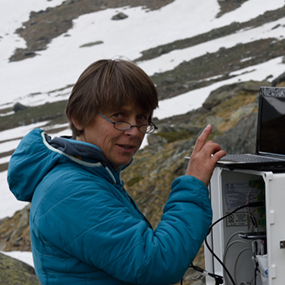 Founder and Director of Research
Background
After receiving her PhD in Ecology, focused on the social structure of the Alpine chough, from the Université d'Orsay-Paris IX, she completed a postdoc at the renowned Oxford Zoology Laboratory. In 1996, Anne founded CREA Mont-Blanc with the goal of creating the research center of her dreams. To that end, her life has been a great success.
Role at CREA Mont-Blanc
Anne is the director of alpine ecology research at CREA Mont-Blanc. She is fascinated by the dynamics of alpine ecosystems and is particularly passionate about animal populations. She also a research associate at the Laboratoire d'Ecologie Alpine (LECA) at the Université de Savoie Mont-Blanc.
"When I think of the mountains, I also think of…"
A place to set up my tent. Anne is a global Alpine Chough specialist, and when she's not communing with her feathered friends, you can find her hiking the mountains, instructing alpine ski lessons, or choosing the best place to set up her bivouac for the night.
E-mail: adelestrade [at] creamontblanc.org