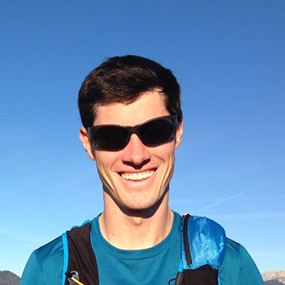 Remote sensing specialist
Background
After earning a BA from Middlebury College in Geography and French, Brad continued his studies in the Ecology Department of the Université of Grenoble, in France. He has a particular affinity for mountain ecosystems, and completed a master in Biodiversity, Ecology and the Environment before beginning his doctoral studies. Advised by Philippe Choler and Wilfried Thuiller, he successfully defended his dissertation, "Understanding spatial patterns of diversity and productivity in alpine plant communities: application of high-resolution imagery in the French Alps", and earned a PhD at the Laboratoire d'Ecologie Alpine (LECA) in Grenoble in November 2016.
Role at CREA Mont-Blanc
At CREA Mont-Blanc, Brad uses his expertise in remote sensing and analysis of spatial data to study the relationship between snow cover and biodiversity in the Mont Blanc massif. What are the impacts of a shorter snow period on flora and fauna, both on a year to year basis as well as long-term trends? Brad is particularly interested in combining field observations with data from high-resolution satellite imagery with the goal of better understanding the local processes that contribute to vegetation change on a landscape scale.
"When I think of the mountains, I also think of…"
Exploring and adventuring up high! Brad is an avid climber, mountaineer and skier. When he's not behind his computer, you can find him up in the Mont Blanc massif, elsewhere in the Alps or even in the mountains back in the United States. In addition to his work at CREA Mont-Blanc, he is in the process of becoming a certified International Mountain Guide at the French National School of Skiing and Alpinism (ENSA).
E-mail: bcarlson [at] creamontblanc.org