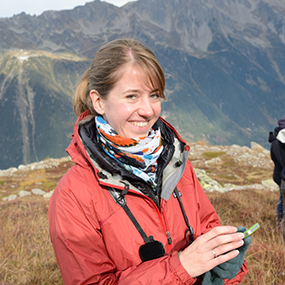 Communication Director
Background
Charlotte received an undergraduate degree in Life Sciences and a masters in Scientific Journalism from the University of Strasbourg. She began her career at the University of Poitiers, where she was responsible for scientific communication for over 50 research labs. Before arriving at CREA Mont-Blanc in 2014, she also worked as a scientific journalist on the radio. She is specifically interested in exploring different ways communicate the work done by researchers to the general public as well as in finding innovative initiatives to inspire scientific debate in society.
Role at CREA Mont-Blanc
Charlotte is CREA Mont-Blanc's communications coordinator and works in the eco-tone between scientific research and the general public. Through the creation of exhibits, posters, flyers, annual reports and the organization of different events, as well as through digital communication, Charlotte showcases the work of CREA Mont-Blanc's team of researchers. Charlotte is also the behind the scenes expert for all online initiatives: she is our webmaster and community manager, responsible for content and technical execution of the website and website user support.
"When I think of the mountains, I also think of…"
A place to soar! Charlotte is training to become a paragliding pilot and is convinced that the beauty of Chamonix and the Mont-Blanc range is best viewed from above.
E-mail: cmader [at] creamontblanc.org