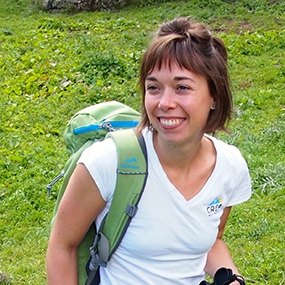 Researcher
Background
Daphné received an undergraduate degree in Forest Management and a master in Functional Ecology from the Université Paris Sud. During her studies, she worked as a caretaker for a mountain hut, and after receiving her master's degree, she worked for the ECOFOR Public Interest Group in Paris on a project to put in place indicators of climate change in forests. With the goal of finding common ground between her two passions (forests and mountains), she began working with CREA Mont-Blanc in January 2014. Since then, she has been able to begin a PhD and develop her skills in scientific communication for the general public.
Role at CREA Mont-Blanc
Daphé was responsible for the PhenoClim program between 2014 and 2015. During that time she also began an international joint PhD at the Université de Lausanne and the Center for Functional and Evolutionary Ecology (CEFE-CNRS) in Montpellier. The main goal of her doctoral research is to use Phenoclim data collected across the Alps at a variety of elevation gradients to study phenological variations in 5 different tree species (hazelnut, ash, birch, larch and spruce) over the last 10 years.
« When I think of the mountains, I also think of…"
Slipping on my climbing shoes and scrambling up high to look at herbaceous plants and the forest canopy. Above all, Daphné loves to be in the mountains where she can marvel at the landscape and the wonders of nature all around her.
E-mail: dasse [at] creamontblanc.org