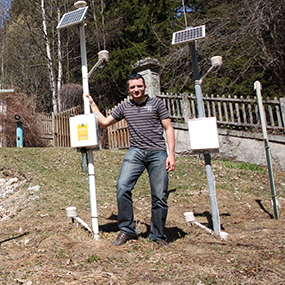 Scientific collaborator, Climate data specialist
Background
Geoffrey received a Geo-biosphere masters with a focus on climatology from the University of Burgundy in Dijon, France.  He began his career at CREA Mont-Blanc in 2012 and since then has been responsible for analyzing the temperature data recorded by the Phénoclim project's 60+ weather stations.  Building upon that experience, in 2013, he began a PhD in Climatology at the University of Neuchâtel in Switzerland.  His currently completing his dissertation, which explores the impact of climate change on the seasonality of snow cover at high altitudes in the Swiss Alps.
Role at CREA Mont-Blanc
Geoffrey is a scientific collaborator for CREA Mont-Blanc.  In addition to his ongoing analysis of Phénoclim temperature data, he is currently working with normalized difference vegetation index (NDVI) data.  This work and the data is the subject of a climactic analysis, which will be published in an international scientific review.
"When I think of the mountains, I also think of…"
An exceptional setting—both for marveling at and for recreating in.   Geoffrey is a fan of mountain sports and loves winter (when he snowshoes and off-piste skis) as much as summer (when you'll find him hiking, climbing or mountain biking).