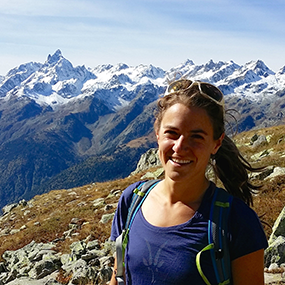 Coordinator, "Climate Change in Chamonix"
Background
Hailing from the Vermont, Hillary received a BA in Sociology and Anthropology from Middlebury College in 2009. Her passion for the mountains and for education started early. While in college, spent five summers as a hut care taker and naturalist in the Appalachian Mountain Club's high mountain huts in the White Mountains in New Hampshire, and after arriving in France six years ago, she taught world literature at the American School of Grenoble for five years. She is currently completing a master's degree in International Cooperation and Multilingual Communication at the Univeristy of Grenoble-Alpes.  
Role at CREA Mont-Blanc
Hillary is the coordinator of Climate Change in Chamonix, a new program for CREA Mont-Blanc, which will bring American university students and other motivated travelers to the Mont Blanc massif to help with scientific field work and to learn about the effects of climate change on mountain environments. She is also responsible for the translating CREA Mont-Blanc's website, communication and pedagogical materials.
"When I think of the mountains, I also think of…"
A playground! Hillary loves spending time in the mountains and is a big fan of the vertical world. She enjoys climbing, mountaineering and skiing, but her current passion is running in the mountains. She is an elite trail runner and loves exploring technical trails across Europe and back home in the US.
E-mail: hgerardi [at] creamontblanc.org