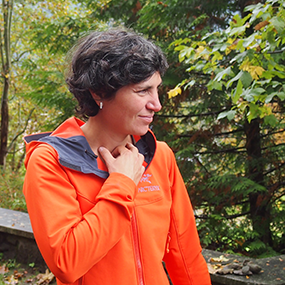 Program Director
Background
Armed with degrees from Sciences Po in Paris and Georgetown University in Washington, DC, Irene worked for 12 years overseas (primarily in Africa) on flora and fauna conservation projects before settling back in her beloved mountains. She has been working at CREA Mont-Blanc since 2013 where she is motivated by a dynamic and innovative work environment. When she is not at CREA Mont-Blanc, she also works as a certified International Mountain Leader, a role which allows her to share with her clients her love of being in the mountains.
Role at CREA Mont-Blanc
Alongside Anne Delestrade, Irene is the co-director of CREA Mont-Blanc. She is responsible for managing the development, administrative and financial aspects of the organization, as well as private and public partnerships. She is particularly interested in the ways that CREA Mont-Blanc can communicate knowledge with the public, and is currently designing new scientific volunteer trips.
"When I think of the mountains, I also think of…"
Feeling small. Irene loves scrambling around the mountains in every season—on foot, on skis or in climbing shoes. But she is especially motivated by sitting, observing the world around her, and silently contemplating the infinitely small, infinitely large.
E-mail: ialvarez [at] creamontblanc.org