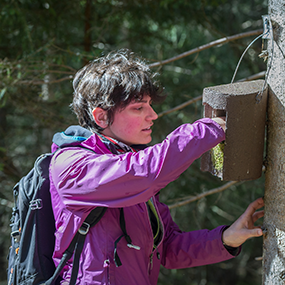 Research fellow and science communication assistant
Background
Marjorie received an international joint PhD in Ecology, specializing in the interactions of large herbivores (chamois, roe deer and mouflon) with their environment, from the Laboratioire d'Ecologie Alpine (LECA) at the Université Savoie Mont-Blanc and the University of Tromsø in Norway. During her PhD, she gained experience in scientific communication while working with the Cultural Center for Science, Technology and Industry (CCSTI) in Grenoble. Passionate about bringing together research on mountain ecosystems and scientific communication, Marjorie was naturally drawn to CREA Mont-Blanc in 2016.
Role at CREA Mont Blanc
In terms of research, Marjorie has taken over the long-term monitoring of coal tits and the common frog—two populations which CREA Mont-Blanc has been studying since 2011. She also responsible for the analysis of several different databases and is currently examining the reliability of the data collected in citizen science projects, including CREA Mont-Blanc's PhénoClim program.
In terms of scientific communication, Marjorie embraces her inner geek while developing interactive web modules for the Mont Blanc Atlas website, allowing the general public to explore data collected over the years by CREA Mont-Blanc. She is also one of the authors of online content for the website and blog.
"When I think of the mountains, I also think of…"
Endless possibilities! Where it's getting a breath of fresh air at altitude, taking a photo of a unique alpine plant, pushing your limits, or simply contemplating the incredible strength and long history of these incredible geologic formations, there is no end to what we can do in the mountains!