Promoting scientific research on mountain environments; participating in improving understanding of the impact of climate change; developing volunteering and citizen engagement in business; encouraging dialogue between scientists and the general public. These are a core set of objectives unite the businesses corporate sponsors that support CREA Mont-Blanc.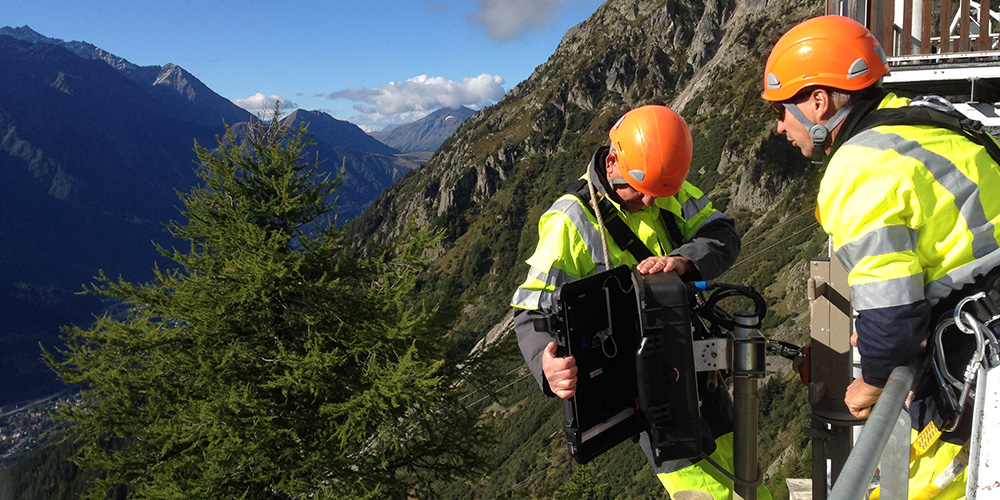 Technicians from Orange Unité Alpes carry out maintenance on the webcam that measures vegetation greening at Planpraz © CREA Mont-Blanc
Why support CREA Mont-Blanc's work?
Join us in the adventure
"Following in the footsteps of the early pioneers of scientific exploration in the Mont Blanc massif, we consider both science and the mountains as part of a grand adventure allowing us to better understand the world around us."
Anne Delestrade, Founder and Director of CREA Mont-Blanc.
CREA Mont-Blanc is an independent and non-political NGO that focuses on using innovative methods for establishing dialogue between scientists and society about ecology and climate change.
We rely on partnerships with private funders because they allow us to be adaptable, to preserve our institutional independence and to deepen our understanding of the relationship between people and their environment. Businesses play a crucial role in enabling our unique approach.
Allow your business and your employees to join our passionate team in this scientific and alpine adventure!
To learn more about how to join us on the adventure, contact Irene Alvarez, CREA Mont-Blanc's program director.