Climate Science in Chamonix is an educational initiative designed by the team at CREA Mont-Blanc for English and French-speaking university students looking to develop their understanding of the impacts of climate change on mountain environments. With trips developed in collaboration with professors from around the world, Climate Science in Chamonix trips allow students to gain field experience, explore the role of science in policy-making and give back…all while visiting an iconic mountain destination.
Why join?
Science
Participating in a Climate Science in Chamonix program will allow you to gain first-hand knowledge of how climate change is impacting mountain ecosystems. Accompanied by CREA Mont-Blanc's professional researchers and using the Mont-Blanc range as a case study, you'll develop a better understanding of ecosystem function and witness how alpine environments and communities are responding to accelerating changes. You'll also get a view into how a non-profit research center functions, how scientific protocols are developed and get experience doing fieldwork.
Explore
Although you'll be coming to Chamonix with your university, through this program you'll get to discover many new experiences: you'll meet new people, explore new mountains and hike on new trails, stay in an Alpine mountain hut, and experience a different culture.
Contribute
Participation in Climate Science in Chamonix is not only a learning experience for students, but also an opportunity to take part in a centuries-old legacy of science on Mont-Blanc and give back to a well-respected, independent non-profit research center. The data collected during trips are an important contribution to CREA Mont-Blanc's research and any profits made from our trip are directly reinvested in our research programs.
Students learn about the history of Chamonix before heading out for fieldwork © CREA Mont-Blanc
Fun
Chamonix is a truly amazing place—a French Alpine village surrounded by some of the world's most revered mountains. While here, you'll meet people from all over the world, enjoy delicious food, relive the region's rich history and discover new cultural experiences.
What we offer
In summer 2018, CREA Mont-Blanc started offering an academic study abroad program focused on the effects of climate change on mountain ecosystems for English-speaking university students. For each trip, CREA Mont-Blanc partners with universities to design highly adaptable programs that best fit the needs of their students. Over the course of one to two weeks, students get the opportunity to discover CREA Mont-Blanc's research, learn about the functioning of alpine ecosystems and 'get their hands dirty' learning methodology, carrying out field work and data analysis.
This program exists against the backdrop of CREA Mont-Blanc's 24-year experience of studying mountain environments and climate change in the Mont Blanc massif. An organization that puts an emphasis on collaboration and interdisciplinary studies, we combine long-term ecology, climatology and glaciology data to help get a global picture of how alpine ecosystems are reacting to environmental changes. When you participate in one of CREA Mont-Blanc's citizen science programs, the data you collect will be added to our innovative, participatory and interactive online database, the Mont Blanc Atlas and contribute to our scientific publications. We make these data and analyses open source and available to the public with the goal of raising public awareness, promoting the use of scientific data in the creation of land management strategies and public policy, and allowing collaborators to access data for their own research.
Program brochure Catalog of fieldsites Catalog of academic units
Day to day
What will students actually do on a Climate Science in Chamonix trip? While activities vary depending on the focus of the course and the season, here are two examples of a "typical" day in the life of a trip participant.
Field work day
Early 5 am wake up at Loriaz mountain hut to listen to birdsongs and learn about analyzing bird abundance.
Return to the hut for breakfast and to prepare for the day's fieldwork.
Head into the field a short hike from the hut in small groups to conduct several of CREA Mont-Blanc's fieldwork protocols.
Eat lunch at the hut, or picnic in the field.
Complete more fieldwork protocols in the afternoon, and/or analyze the data collected in the morning.
Hike 2 hours back down to Vallorcine village, and take the Mont Blanc Express train back to Chamonix.
Enjoy dinner in one of Chamonix's many restaurants.
Day in Chamonix
Wake up at around 7:30 and breakfast at the hostel.
Head to the Mont-Blanc Observatory to meet with the CREA Mont-Blanc team for a class on the use of camera trap data to analyze fauna distribution and abundance, or to analyze data from the field.
Group picnic lunch at the Observatory.
Trip up the world-famous Aiguille du Midi.
Free time in the evening for a sunset hike, buying souvenirs and dinner with friends.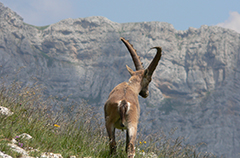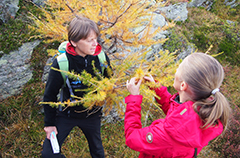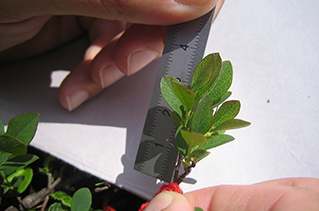 If your university doesn't yet offer Climate Science in Chamonix, talk to your professors and department heads!
Scientific protocols
CREA Mont-Blanc's work focuses on phenology, or the season cycles that species undergo. The fieldwork we do will depend on the time of year your come visit and the needs of the CREA Mont-Blanc team. Here are some examples of protocols you might carry out:
Monitoring of coal tit (Periparusater) reproduction through visits to nest boxes
Monitoring of common frog (Rana temporaria) reproduction
Measuring vegetation productivity
Research and measurement of tree size and distribution to study treeline shift
Installation of new long-term monitoring equipment
Analysis of vegetation patches (ground truthing for satellite imagery)
Comparison and analysis of recent and historic landscape photos
Creation of new protocols and visualization techniques
Why CREA Mont-Blanc?
Founded in 1996, the Research Center for Alpine Ecosystems (CREA) Mont-Blanc is one of the world's preeminent non-governmental organizations dedicated to the study of the impact of climate change on alpine environments.
The Mont-Blanc massif has long been the subject of scientific discovery and innovation, attracting doctors, astronomers, geophysicists, botanists, meteorologists, ecologists, glaciologists and climatologists since the early 18th century.
Since its creation, CREA Mont-Blanc has dedicated itself to carrying on that legacy and combining high quality ecological research with education initiatives and has established itself as a pioneer for citizen science in France. At CREA Mont-Blanc, we believe that science cannot exist in a bubble, separated from the general public, and we are passionate about sharing our research, our approach and our knowledge with citizens of all ages and from all walks of life. Over the years, we have gained extensive experience leading trip of citizen scientists, and began expanding our programs to English-speaking audiences in early 2017.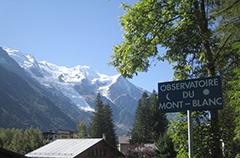 Our team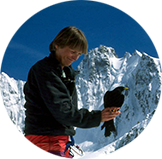 Researcher
Anne Delestrade, PhD in Ecology
Anne Delestrade founded CREA Mont-Blanc in 1996. She has been studying the social intelligence of the Alpine chough for over 30 years, and created the Mont Blanc Atlas, an open data scientific resource.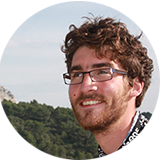 Researcher
Colin Van Reeth, PhD in Ecology
Colin directs CREA Mont-Blanc's Phenoclim citizen science projet and specializes in phenolgy and wild bees. He'll be out in the field with you and help guide you with data analysis.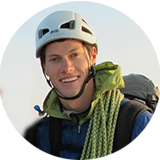 Researcher
Brad Carlson, PhD in Ecology
Brad is a specialist in remote sensing and analysis of spatial data and studies the relationship between snow cover and biodiversity. He'll be out in the field to help with habitat mapping and ground trothing protocols.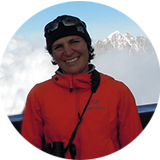 International Mountain Leader
Irene Alvarez
Irene is both CREA Mont-Blanc's Program Director and a certified mountain leader. She will help you learn about how an independent research center works and address the challenges and strategies that climate change presents for humans.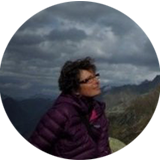 International Mountain Leader
Sandrine Goulmy
A naturalist and an experienced mountain leader, Sandrine will help you to see the mountains around you in a new light. She frequently collaborates with CREA Mont-Blanc on field monitoring.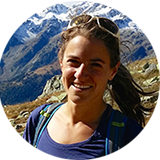 International Mountain Leader
Hillary Gerardi
Hillary has a background in education and communication. She will be the point person before, after and during your trip to Chamonix. She'll both orchestrate the program from behind the scenes, and join you out in the field.
Testimonials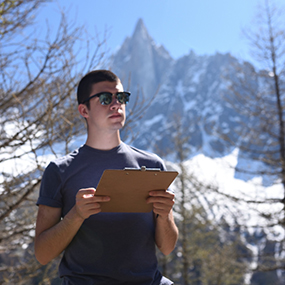 "A fantastic oportunity to gain knowledge in the field"
"This trip has been a fantastic opportunity to meet new people, gain knowledge in the field, and see Europe. Through working with CREA and ARPA I got to see exactly what ecologists and climate change scientists do, and gained insights into climate change that I couldn't get in a classroom." Hurst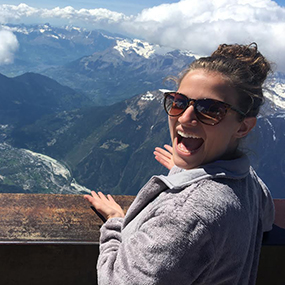 "We saw real time climate change effects on bird population"
"Working alongside CREA to learn about and assist in research was engaging, emotionally tying me to the cause and the place. We saw real time climate change effects on bird populations and on the Mer de Glace glacier. The hands-on portion was enriching and took us to places with incredible natural beauty. It was an amazing experience, and I am already looking forward to my next trip to Chamonix." Hannah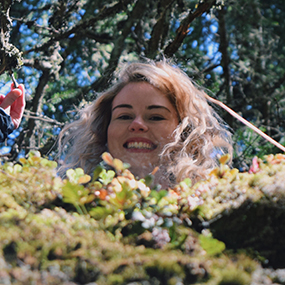 "It was refreshing to see how people from different countries could work together"
"It was refreshing to see how people from different countries (France and Italy), and from diverse backgrounds, could work together to make a difference in tourism and in climate change. During this trip, I learned how to not only enjoy the landscapes and the people of France, Italy, and Switzerland, but I also learned how to appreciate the information and history that makes up each of those locations." Keirsten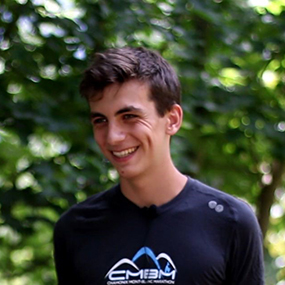 "My perception of climate change has definitely changed"
"Before the trip, I didn't have a real idea of what a researcher would be like, but now I'd say that CREA Mont-Blanc's researchers are relaxed, but serious when they need to be…and they are all really passionate about the mountains and about the environment. It was really interesting to help with research and I think my perception of climate change has definitely changed. The ambiance was really convivial and nights in the mountain huts were awesome. Overall, we were really well integrated into the team and it was really fun!" Guillaume
Interested?
For more information about CREA Mont-Blanc's Climate Science in Chamonix program, please don't hesitate to contact us. If you have specific questions, about the program or about coming to Chamonix, head to our FAQ page.
If you think that Climate Science in Chamonix is a good fit for you and for your university, but it is not currently offered, we encourage you to talk to your professors and department heads about partnering with us to design a program that would work for your school.
If you are a professor and are interested in leading a Climate Science in Chamonix study abroad unit, please download our brochure and contact us!