Founded in 1996 and based in Chamonix, France, the Research Center for Alpine Ecosystems (CREA Mont-Blanc) is an organization specialized in the study of natural mountain environments. For over 20 years, CREA Mont-Blanc has been combining high quality ecological research with communication and education initiatives. CREA Mont-Blanc is a pioneer and leader of citizen science in France and maintains a strong commitment to participatory science, aiming not only to encourage the understanding of ecology, but also to directly involve the public in innovative scientific research.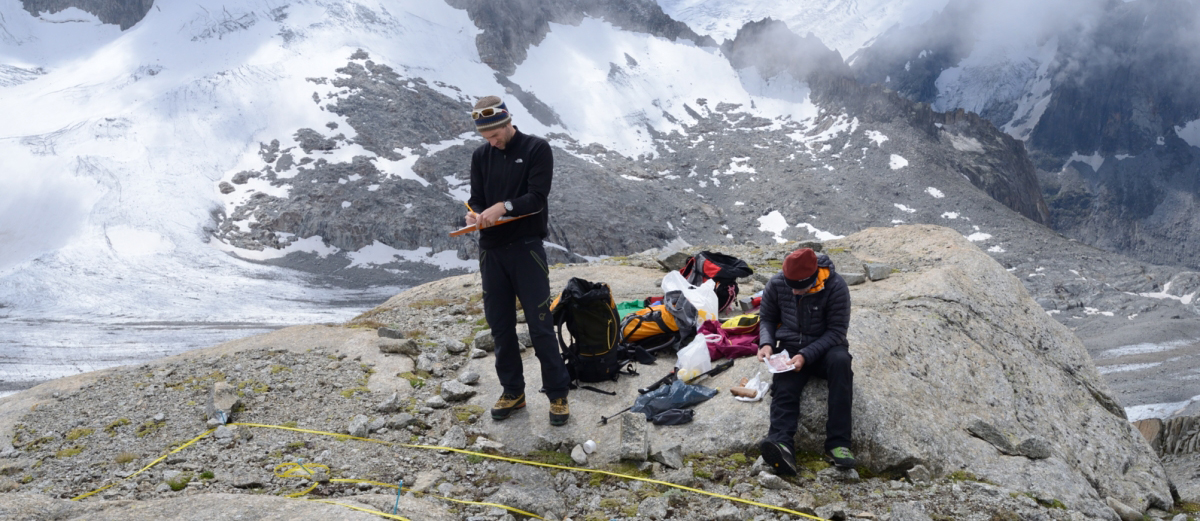 Scientific Research
From mountain forests to alpine meadows, scree fields and glaciated zones, mountain ecosystems are home to a wide variety of plant and animal species. These species are uniquely adapted to their harsh environment and evolved to survive at high elevations and in extreme climates. However, they are also highly sensitive to disturbance and serve as important indicators of the impact of humans on the environment. Through its long-term and multidisciplinary research, CREA Mont-Blanc helps to improve the understanding of how these species function and respond to global change.
Learn more about CREA Mont-Blanc's research
"Following in the footsteps of the early pioneers of scientific exploration in the Mont Blanc massif, we consider both science and the mountains as part of a grand adventure allowing us to better understand the world around us." - Anne Delestrade, Founder and Director of CREA Mont-Blanc
Communicating with the public
Here at CREA Mont-Blanc, we believe that science cannot happen in a vacuum. That's why we strive to create connections between the scientific community and the general public by generating interest in the scientific process and providing access to our data (both free and open-source) and results (through publications, expositions and events).
Through our citizen science initiatives, we encourage everyone to help us collect data that is both useful for our research and the international scientific community.
The primary objective of CREA Mont-Blanc is provide everyone (students, citizens, land managers, decision-makers, politicians, businesses and media) with the scientific information and sense of curiosity and wonder that will allow us work together to preserve the amazing world around us.
Learn more about citizen science at CREA Mont-Blanc
A unique organization, situated in the midst of its study area
CREA Mont-Blanc is an independent, non-governmental, nonprofit — a status which allows for independence and flexibility in its activities. An innovative hybrid between an academic laboratory and a field work organization, CREA Mont-Blanc benefits from numerous collaborations with scientific partners, educational ambassadors and land managers. For over 20 years, CREA Mont-Blanc's insistence on rigor and transparence in its management has helped it secure funding from dedicated financial partners who share the organization's mission. CREA Mont-Blanc's unique location at the foot of Mont Blanc in Chamonix has allowed it to develop programs and carry out research both in the Mont Blanc massif as well as other French and trans-border ranges.
Learn more about CREA Mont-Blanc's scientific collaborations and financial partners
"For over 20 years, our rigor and transparence in the management of our organization have ensured the consistent support of our financial partners, who are committed to supporting us in this grand adventure." - Anne Delestrade, Founder and Director of CREA Mont-Blanc
Scientific and Community Objectives:
Amaze: Inspiring people to change the way they think about science and about the mountains by inviting them to join the next generation of scientific pioneers in the Mont Blanc range.
Explore: Rigorous scientific study of the function and dynamics of alpine ecosystems through fieldwork and collaboration with renowned international ecology labs.
Educate: Thanks to citizen science initiatives and the provision of access to free, open-source data and results, providing people with the tools for understanding the importance of biodiversity and the effects of climate change.